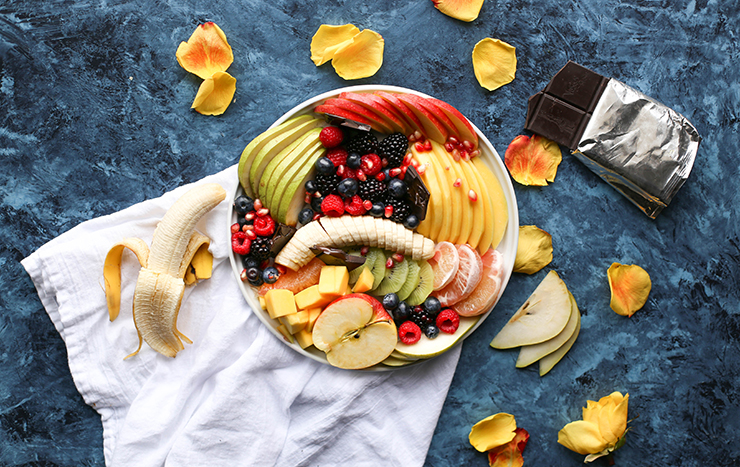 If you love fruit as much as we do, put some on your face! That's right, nature's dessert can double as fantastic treats for your skin! Check out our list of the top ten fruits that work wonders inside and out:
1. Lemon – Full of Vitamin C, B, and Phosphorus, lemon has a number of benefits for skin of all types. Rub some on elbows to get rid of discoloration, or use lemon juice in a mask to treat acne and blemishes, as well as to add a youthful glow to the skin.
2. Avocado – The Vitamin A in this magic fruit (that's right – avocado is a tropical fruit!) helps clear skin of dead cells, while antioxidants make it a great weapon against wrinkles and dullness. Making a mask from this tasty treat is a cinch – just mash it up and apply directly to your face!
3. Bananas – Everyone's favorite yellow friends are more than just a source of potassium, they're packed full of Vitamins A, B, and E making them a great anti-aging mask. Smash one up and use it as a mask for fresh, glowy skin.
4. Apple – They don't just keep the doctor away but fine lines and wrinkles too! Packed with collagen, elastin, and Vitamin C, an apple-peel mask is a quick and easy way to perk up the skin.
5. Papaya – The Vitamin A and Papin (a type of protein) in Papaya make it super effective at treating blemishes by removing dead cells. It's perfect for hydrating dry, cracked skin – whether it's on your face, elbows or heels!
6. Kiwi – This power fruit is the leading source of Vitamin C and also contains a ton of Vitamin E – both fantastic anti-aging vitamins. Cut into slices and place over eyes to reduce puffiness and darkness.
7. Peaches – This summer fruit is loaded with Vitamin A, C, K, beta carotene, potassium, magnesium, and selenium, so it may protect skin from UV rays while healing sunburn and hydrating dry, dull skin. Add some mashed peaches to plain yogurt for a yummy peaches-n-cream face mask.
8. Pineapple – Not only is pineapple full of Vitamin A and C (both great for anti-aging benefits) but the enzymes in this tasty fruit improve skin elasticity and hydration, while removing dead cells. Use a big slice in the shower as a loofa for skin that's soft, glowy and sweet.
9. Tomato – That's right folks- tomatoes are a fruit, and one chock-full of Vitamin C, A and anti-oxidants. And because it's high in acidity, it's perfect for balancing oily, acne prone skin. Just cut in half and rub on on your face for a cooling and toning mask. So easy!
10. Cucumber – No list of beauty boosters would be complete without this super star, crammed full of Vitamins B1, B2, B3, B5, B6, C, Calcium, Iron, and Folic Acid, you can quickly grate a fresh cucumber and mix with water for an all-over face mask that hydrates dull, dry skin leaving behind a youthful glow.
Phew! When it comes to beauty, nature doesn't mess around 😉 Who would have thought that all the best beauty secrets are hiding in your fridge? Let us what beauty superstars hide in YOUR fridge in the comments below, and as always, live divinely.