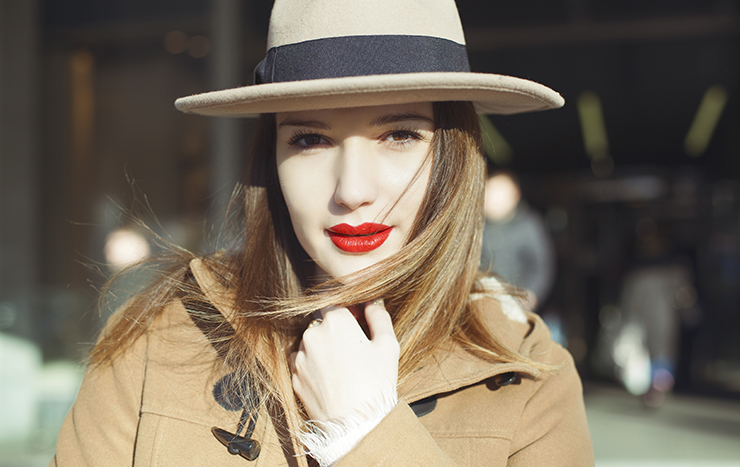 When we first heard about Fall 2012's trend lip color we thought, rather sarcastically, Oh how innovative, a deep burgundy for Fall. Snooze! But after some further research we realized that the mulberry lip isn't just another boring burgundy lip, it's a multi-dimensional, lush purple tinted brown…or brown tinted purple? Either way, the trick to pulling off this look is blending two or three different shades of brown, plum, or even purple together for a shade that's not only on trend, but perfect for you. Here are some of our favorite way to wear this look:
1. Super graphic
Graphic lips are all about a sharp, defined lip; it's bold, in your face and not for the faint of heart. To start off, line your lips with a dark plum, burgundy or dark brown liner. Make sure to go slightly above your actual lip line for added volume and intensity. Want an even more daring edge? (duh!) When you reach your cupids bow, extend the line up a bit and draw defined, angled peaks. Although the effect won't look natural, the sharp lines will give your mouth a pouty, 3-D effect that you see covering the spreads of fashion editorials. Fill your lips in completely with liner and then apply a matte lipstick in a matching shade of plum or burgundy. Make sure to pick a lipstick that has a hint of purple to it, and if you can't find the exact shade you're looking for, simply mix a wine colored lip stick with a dark purple one to create your perfect custom shade of Mulberry. For extra staying power, dab a translucent powder over the lipstick, blot and apply a second coat. Not a matte finish fan? No worries, layer with some high shine clear gloss for a slick, wet finish. The effect is a stunning three dimensional lip with strong definition and an edgy, modern feel.
2. The everyday look
While the graphic lip is great for a night out, it just won't do at the office or even at a casual dinner date with friends, however this look can be adjusted to work during daylight hours too. Simply leave out the lip liner and opt for a lighter shade of lipstick or simply a tinted balm. In order to perfect this look, rub the lipstick onto a clean finger and gently dab the color onto your lips. This technique achieves a less saturated, "just-bitten" look, meaning that you can get two different lipstick colors out of one tube simply by controlling how much of it goes on your lips. If you're not into using your hands, apply the lipstick straight from the tube and then blot your lips on a napkin a few times. Layer with a quick swipe of a light reflective gloss in a complementary shade and you are good to go! It's an old trick that will never go out of style 😉
3. Barely there
Sometimes we just want to look effortlessly beautiful and wear just enough makeup to look like we're not wearing any at all. On days like that, it can feel like incorporating trends into our looks just isn't possible, but we don't believe this has to be the case. For example if you wanted to achieve this look in a more natural way, rather than using a full on lipstick, or even a tinted balm, opt for a lovely burgundy or wine colored stain which can be applied lightly for a flushed hint of color or layered for a more saturated, kissable look. Don't have a stain? No problem! Simply apply a lip liner in the mulberry family (again, dark red, brown, even a plummy purple will do) all over the lip, blend well with your finger and then blot most of it off on a clean napkin. Top it off with a moisturizing lip balm (NOYA anyone?) and you're all set for a light, lasting trendy lip without the fuss and worry of an over-the-top look.
We hope one of these looks works it's way into your Fall make-up routines, but if none of these ideas seem appealing to you, why not try out your own Mulberry-inspired creation? The beauty of makeup is that it's all about experimentation, and what once seemed over the top and clownish (see the neon pink lip of this past summer) eventually becomes the new must have look splashed across the covers of every magazine. Can you think of any cool ways to wear the Mulberry mouth? Make sure to leave a comment below letting us know how. And as always, live divinely 🙂