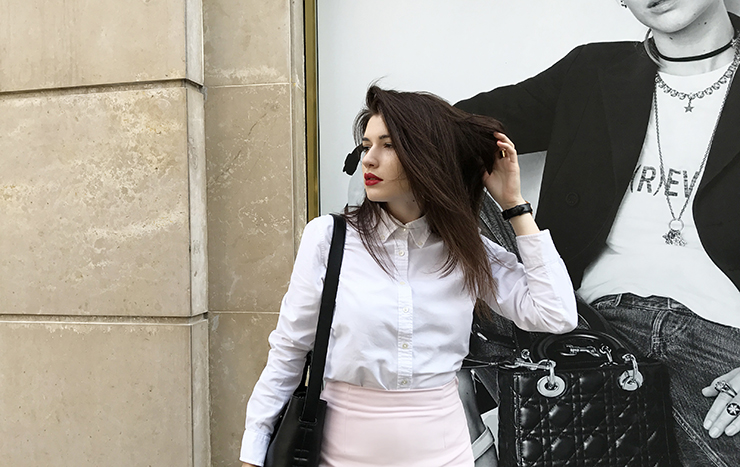 Twice a year, New York Fashion Week sweeps through noyah's hometown like a stylish wildfire, leaving in its wake priceless Instagram shots, newfound wardrobe inspirations, and a slew of beauty trends that looked way better on the runway than they do on the job (unless your job title is "supermodel" in which case maybe just skip to our previous post on the history of lipstick, or something). It can be tough to translate fashion forward glamour into a real life look for work or school, so we've made it a little easier by choosing the best lip colors to accompany some of our favorite hair and makeup trends from the NYFW runways. Read on to see how you can use lipstick to rock next season's hottest beauty styles if, like us, you're not literally Gigi or Bella Hadid.
Trend/Lip
Colorful, Cute Hair Accessories/Hot Pink Lipstick
From Marchesa's big bows to the rose-adorned mourning veils by Adam Selman, eye catching hair accessories were a major runway hit, and Tory Burch's toned down take on the trend was cute and easy to incorporate into any daytime look. Models for Burch's Fall 2017 collection looked like they could break into a skip at any moment, thanks to the colorful fabric affixed to their ponytails. A light pink lip color seems like the obvious complement to this school years-esque style, but we suggest reaching for a super hot pink for an edgier effect that's still cute and young but reads more skipping class than skipping rope.
Exaggerated Inner Eye Highlights/Sheer Gloss
It's no secret that highlighting the inner corner of the eye is the best way to fake a good night's sleep, but models for Calvin Klein and Proenza Schouler bumped things up a notch with lots of white and silver inner eye highlight that turned this beauty "secret" into a full fledged statement. To avoid looking costume-y, the models kept their other makeup to a minimum, so if, like us, you hate the thought of ignoring your lips entirely, the answer is a sheer gloss. A sheer shine in a color close to that of your natural lips will give them a natural radiance that draws attention without competing with your beautifully bright eyes.
Untamed Structural Hair/Nude Lip
Good news for anyone who's been dying to try a new haircut but isn't willing to master the art of styling it in time to get to work/school in the morning: From tousled bobs and lobs to messy shags, NY runways were resplendent with retro cuts that get their style from structure, not, well, actual styling. Bright lip colors are a cute contrast to the "undone" look, but consider trying something different and reaching for your favorite nude lip color to give your glam a more modern feel without sacrificing the less is more, snooze-button appeal.
Bold Eye Makeup/Pretty Pink Lipstick
During Fashion Week, the "city that never sleeps" doesn't even have time for a quick beauty nap. Despite their chaotic schedules, models walking the runway had an undeniable twinkle in their eyes. And around their eyes. And, in some cases, in their eyebrows. Safe to say bright (and even glittery!) eyeshadow is once again "a thing." Tempting though it may be to carry on the proud tradition of pairing a bold eye with a low-key lip, we suggest combining your flashy peepers with a pretty pink pout that's in keeping with the playful look but still subtle enough to mesh with a dramatic eye. Stay away from loud, hot pinks and instead opt for a soft and sweet option, for an effect that's more cute than crazy – and very cool.
Let us know which catwalk styles you're looking forward to incorporating into your beauty routine, and we'll help you find the perfect noyah shade to suit your updated look!