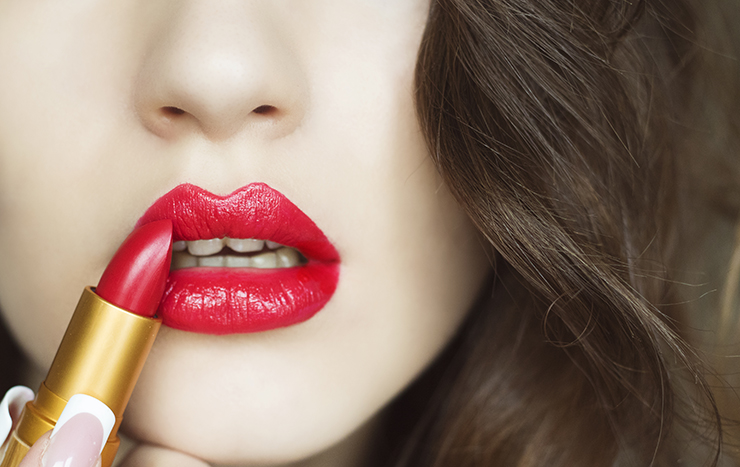 Lipstick has the power to totally transform your look. Used correctly, it can brighten a tired complexion and make even the sweetest summer dress look totally rock and roll. With great power, however, comes great responsibility, and the wrong lipstick can leave a negative mark on an otherwise great look. To err is human; to err smack dab in the middle of your face, avoidable. We've compiled the following tips to help you skirt common lipstick-related mistakes and make the most of this powerful beauty tool.
Prime your pout
You've probably heard that a bright lip color should be your go-to if you're trying to fake a good night's sleep – and it's true! – but there's a catch. Along with dull skin and puffy eyes, being underslept typically means dry, flakey lips, which are a telltale sign that you skipped your beauty sleep the night before. Lipstick accentuates these flakes, particularly if you're wearing a vibrant hue in an attempt to appear more awake. Solve this issue by gently exfoliating your lips and applying a hydrating lip balm before reaching for your favorite bright lipstick, so that you can apply it smoothly and give it more staying power as you trudge through your day.
Find a good match
We've all experienced the disappointment of discovering that a lipstick shade we love in the tube doesn't look nearly as enticing on our lips. Color depends on context, which explains why the lip color that makes your bff look radiant may not have the same effect on you, or even why certain makeup colors appear slightly different depending on what clothing you're wearing. By now you're probably familiar with the concept of choosing the right lipstick colors for your skintone, but did you do that similar rules apply to choosing what makeup to pair with your outfit?
Just like skintones, the colors you wear are multifaceted, so it's not as simple as wearing a red lip to match your red dress. If you're wearing a cool red dress, for example, choose a blue-based red for your lips to pull your look together, and vice-versa for a dress in a warmer red shade.
Suit your shape
Choosing the right shade is important, but it's not everything. The shape of your lips also has a lot to do with which colors are right for the look you're trying to achieve. Dark colors might make lips appear smaller, so while a super dark, vampy lip color might seem like an attention-grabber, it can actually make your lips appear even smaller in proportion to the rest of your face, which isn't always the goal. To fake fuller lips, opt instead for a light, vibrant color – and don't be afraid to get glossy, as shine is a surefire way to play up your pout, even if you want to stick with a darker color. If, on the other hand, you're trying to downplay very full lips, go the opposite route, with matte neutrals that deemphasize your mouth but still give you a polished overall appearance.
Your lips are a great place to play with color, and experimenting is the best way to find what works best for you. Keeping the above guidelines in mind will help you steer clear of common errors so that you can experiment with confidence!