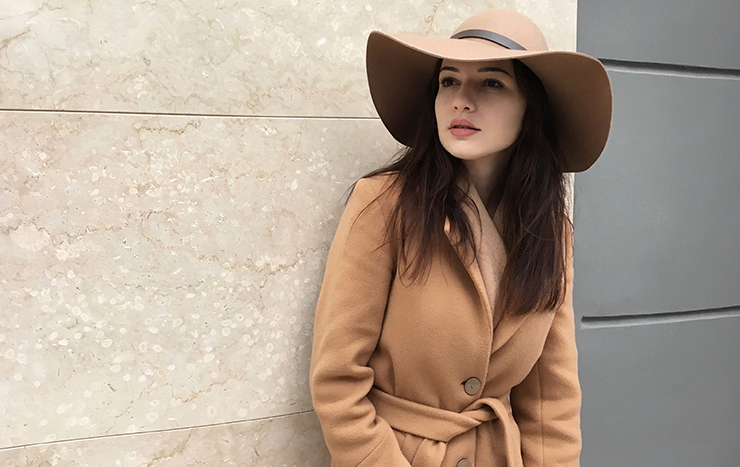 It's officially fall, and whether that means a return to school, or a return from some tropical vacation, one thing's for sure, it's getting colder by the minute. If you're like us, you love the sizzling, sweaty glare of the sun, and the chillier weather can sometimes bum you out. Alright, it can make you want to crawl into bed, and not come out until the sunshine returns (why don't humans hibernate???). But since for most of us such a fantasy is not a realistic option, let's think about the brighter side of fall and make good use of all the gifts this season has in store for us!
1. Sweater Crazy!
Cooler weather means one awesome thing – sweater weather! From cardigans to hoodies, cables and knits, fall fashions are abundant with this cute and cozy staple. In fact, we start daydreaming about cardigans and pullovers long before the first day of fall; by the time August rolls around we really miss layering cardi's over tanks and t-shirts. Way before the end of summer, we can be seen sneaking through our storage and pulling out some old favorites, like the bold floral print mini cardigan that adds a flair to any outfit, or that leopard pullover that always makes me feel fun and frisky. There are so many varieties and prints to work with, your closet is sure to be bulging by the time (shudder!) winter rolls around.
2. Accessories galore!
One thing that we miss most during those sweltering summer months are our scarves, which brings us to accessories in general. We love us a pashmina layered over cropped jackets, rain coats or over anything really. Once the warmer weather rolls in, we have a very hard time letting go of our scarves, and tend to wear them long past the point of comfort. So when we need to get excited about fall, we bust out those scarves. Not into scarves? No problem, Fall allows for an abundance of accessories like cute mini motorcycle gloves, head wraps or slouchy berets, faux fur vests, and best of all, BOOTS. From wedge booties to rugged army boots, there is a style of boot out there for everyone. So pick yourself up a new pair of shoes (or two..), layer a bold scarf on top of your favorite vest, and pull on some adorable fingerless gloves; the options here are limitless, so feel free to go wild with it!
3. Pumpkin…everything!
From pie to cider, pumpkin is definitely the quintessential fall fruit. What better way to shake those post-summer blues then with a nice, hot pumpkin latte and a side of delicious pumpkin muffins? You can literally just mix vanilla cake batter with Pumpkin filling, and make yourself some yummy, Fall flavored cupcakes. Use your imagination and see how many tasty pumpkin treats you can think up. And this year, make sure you carve yourself a jack-o-lantern or two; there's no better way to bring back your childhood frivolity then with messy pumpkin creations. If culinary creations aren't your forte, don't fret, here's some of our favorite recipes:
[find links for pumpkin cider, pie, muffins, cookies….]
The Perfect Pumpkin Pie: https://allrecipes.com/recipe/perfect-pumpkin-pie/
Pick-Me-Up Pumpkin Latte: https://www.cooksrecipes.com/beverage/pick-me-up_pumpkin_latte_recipe.html
Pumpkin Muffins: https://smittenkitchen.com/blog/2006/10/promise-keeper-pumpkin-eater/
Old-fashioned Soft Pumpkin Cookies: https://www.verybestbaking.com/recipes/32364/old-fashioned-soft-pumpkin-cookies/detail.aspx
4. Fall Colors!
We're not just talking foliage here, which in itself is beautiful and should be fully enjoyed, photographed, and instagrammed, but make-up! Most likely, your summers been filled with coral nails and lips, pink lip glosses, shimmery shadows, and generally light handed application. Fall brings out our more rustic nature and we find ourselves craving the deeper hues in our looks, from burgundy lips, to brown and taupe eye shadows, we cannot get enough of our favorite autumnal shades. And don't even get us started on red lip stick! Although we'll admit, red finds it's way onto our lips every season, we absolutely cannot stay away from red lips during the Fall, and usually purchase at least one more shade for our collection every year. And if you're worried about pulling off these darker shades, don't fret! Just apply with a lighter hand, and use some moisturizing balm on the tip of your finger to gently dab on your lips and diffuse the color.
5. Holidays!
Some of the best and most festive holidays are around the fall season. There are costumes to plan for Halloween and turkey dinners to cook for Thanksgiving. Although football season isn't technically a holiday, it's definitely a reason to host fun parties and cheer your (or your significant others) team to victory. Get yourself in the holiday mood by decorating your home with cobwebs for Halloween, or create some fun Fall wreaths to lay around the house and put you into that Thanksgiving mood. After all, redecorating is a great way to bring new energy into your home, and what better excuse than all these lovely holidays? Try experimenting with new recipes this Thanksgiving, who knows, maybe you'll start some new traditions? Or try to cook a healthier, yummier dinner this year for you and your loved ones.
These are just a few of our favorite things about fall, there are definitely more reasons why this season is a time for celebration rather than mourning. Looking over this post, we think a good theme for fall is adventure and experimentation, whether that's in the form of exploring a park and enjoying the lovely foliage, or trying out a new look or recipe, there is no better time than now to add some spice and excitement to your life (if only just to take your mind off those end of summer blues). Hopefully this post managed to add some fun to the next couple months!
Let us know what some of your favorite things about fall are, and what you do to keep those smiles on all year long 🙂 And, as always, live divinely.